We have experience with the installation of pet doors since 2013. You are going to make a hole in a door, in a wall or a window, which is quite radical.
So read the below and don't hesitate to contact us with your questions !
The most comfortable:
A dog flap or cat flap through the wall
Our pet doors through the wall have a double flap: an extra flap on the inside. Between both flaps an insulating layer of air is created so you won't notice the cold outside when your dog or cat goes through the flap in winter. Our doors also have a solid solid wooden tunnel, which is necessary to hold the insulating layer of air and which also ensures that your animal can comfortably go in and out!
Isn't a hole through the wall too intrusive? Actually not: a wall can easily be restored should the pet door ever need to be removed. Inner walls can be bricked up and finished again perfectly and if you no longer have any spare cladding bricks, our installer can break out your bricks neatly and leave them with you when you install them.
Disadvantage? The total cost is higher because of the extra material and working hours. You can rest assured: customer satisfaction is very high.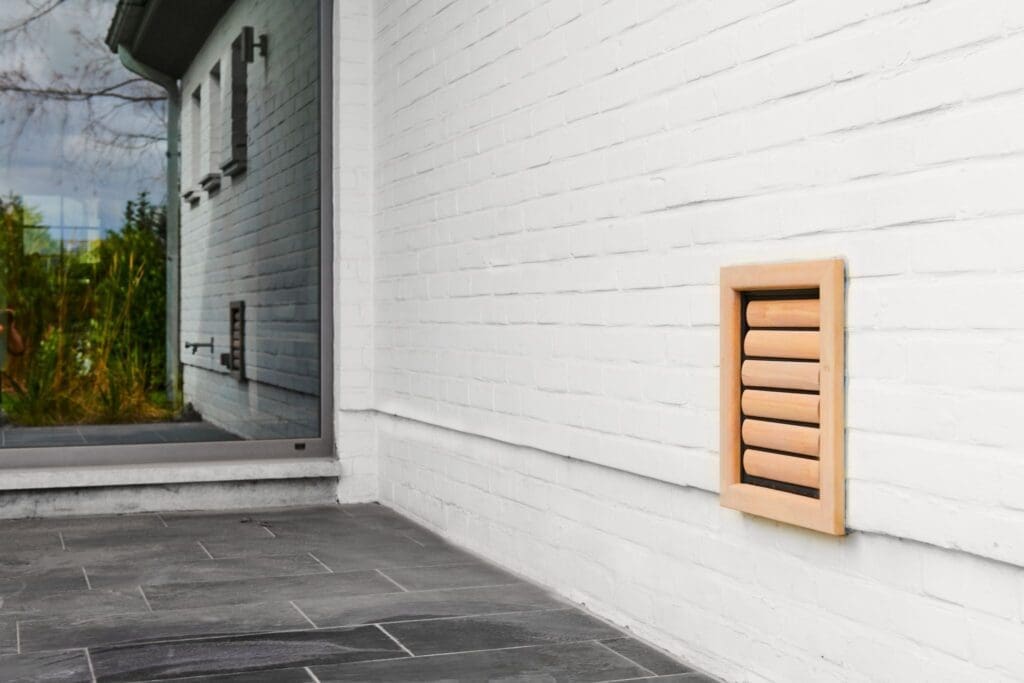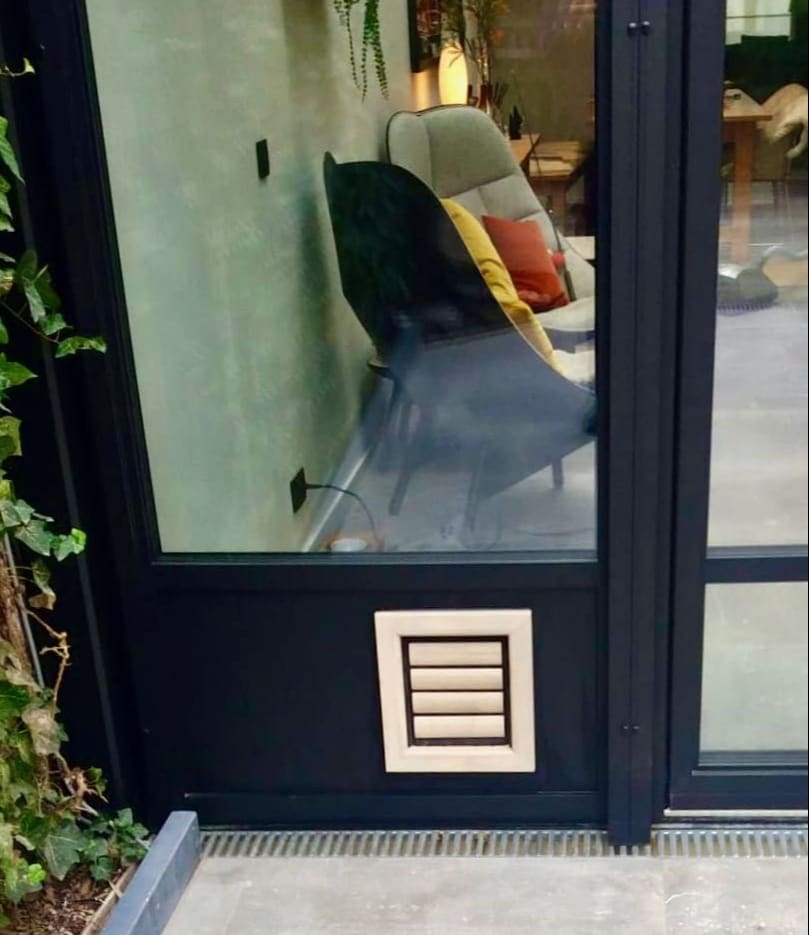 The obvious one:
A dog flap or cat flap through a door
It makes sense, doesn't it… just like the owner, the dog or the cat goes through the door, albeit his own mini-door in the big door. The advantage is that the installation is done quickly, especially with the system we came up with to install our pet door: make a hole with the supplied template, slide in the pet door, fix it with the closing frame and you're done. Don't forget to seal the outside ! We can of course also do this for you.
The self-installation is a project that a do-it-yourselfer will love: the pet door is solid and made of good material s… No fiddling or tinkering. Another tip: if you take a "natural" finished pet door that you want to finish yourself, do it before you install it. Painting the pet door when it is lying on a table is much more comfortable than working on your knees in front of the door!
Disadvantage? None. However, for the sake of completeness, do take a look at the advantages of an installation through the wall.
A special one:
A dog or cat flap through a window or a glazed door
Here there are basically two variants: installing the pet door in a panel or installing it in the glazing. Both solutions require a lot of technical coordination with your joiner or glazier, but that's not a problem, we are happy to do that for you.
Pay attention with sliding doors that the extending parts of the pet door do not touch the sliding door ! Please contact us for more details.
The installation in a window is very special and very beautiful.
This is a particularly successful example for a client in London. For increasingly common "glass facades" this is a good solution. The hole in a double glazed window is made during the production of the window, it cannot be made in an existing window.
Disadvantage? It takes a lot of coordination, but we're happy to do it for you. The adjustment to the glass and joinery is an extra cost.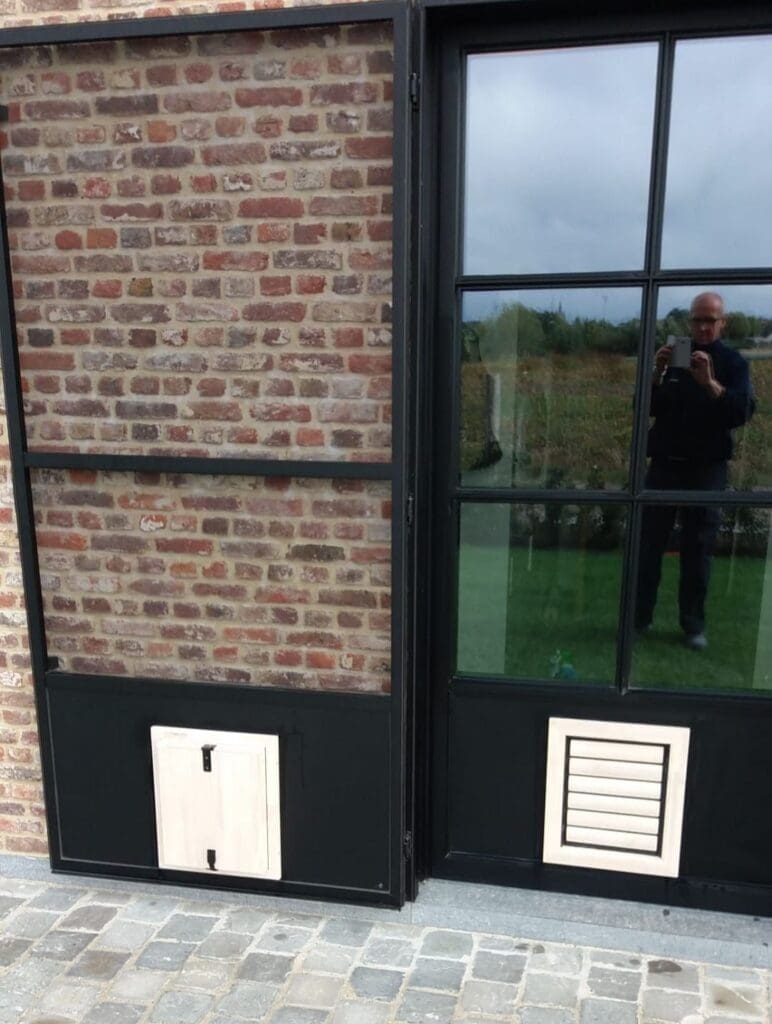 Finally:
A pet door in a fly window, fly door or screen door
You can put a pet door in your screen door if it has a fixed panel. It doesn't matter how thick the panel is: our doors can be installed in panels that are less than a millimetre thick!
On the accompanying picture you can see a very clever combination of door and flying door! The pet doors are perfectly placed opposite each other so that the dogs of these owners can always enter or leave through the flying door.
So… before choosing a door, wall or window, look around your home and think about your comfort and that of your dog or cat. Be aware that there are many possibilities !